8 Day Blue Whale and Gray Whale Trip
---
Up Close Whale Watching in Baja, Mexico
The most comprehensive and extraordinary of whale watching adventures is our 8 day Big Whale Trip that begins in the small town of Loreto in Baja Sur., Mexico on the Sea of Cortez. On this 8 day journey, we visit the Gray Whale Sanctuary of San Ignacio Lagoon and our private Ecolodge "Campo Cortez" where mother Gray Whales approach our boats and encourage us to scratch, pet and even sing to them and their newly born calves. Over the years, this has become a regular occurrence only at San Ignacio Lagoon. After three full days at San Ignacio Lagoon, we return to the Sea of Cortez and Loreto which is the winter home to the largest of all whales, the Blue Whale along with a huge variety of other marine mammals including Humpbacks, Fins, Orcas and a variety of Dolphin. The Sea of Cortez is one of the richest marine mammal habitats on the planet and the reason why we make this our second home when it comes to incredible whale watching experiences.
BEACHSIDE CABINS AND ACCOMMODATIONS
CAMPO CORTEZ - THE ECOLODGE
TRIP ITINERARY AND HIGHLIGHTS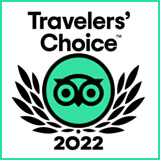 We are consistantly rated the
#1 Travelers' Choice on Trip Advisor
year after year for one reason, our Staff and Owners - who are residents and locals to San Ignacio Lagoon. We are four generations of family living and working in the lagoon since the settlement of San Ignacio Lagoon. We take pride in our efforts at our Eco-lodge to have a low-impact environmentally and the responsibility that we carry as Ambassadors to the lagoon and its many wildlife residents.