San Ignacio Lagoon Gray Whale Ecolodge for Self-Arrivals
---
San Ignacio Lagoon Gray Whale Watching Up Close
Join us at Campo Cortez Ecolodge located at San Ignacio Lagoon in Baja California, Mexico. Campo Cortez is located at the end of the road on the remote shores of San Ignacio Lagoon where Gray Whales end their winter migration to mate and give birth. This is the last untouched and undeveloped Gray Whale Sanctuary on the planet which is located in the heart of Mexico's largest protected area El Vizcaino Reserve. There is no other location like it where we encounter Mother Gray Whales approaching our boats encouraging us to scratch, pet and make contact with their newborn Gray Whale Calves. A truly indescribable and touching experience. Over the years, this behavior has become a regular occurrence only at San Ignacio Lagoon. Campo Cortez Ecolodge is one of the best locations at San Ignacio Lagoon and is a low impact, sustainable way to come and experience this life changing event with one of San Ignacio Lagoon's first families that run and operate The Ecolodge Campo Cortez.
BEACHSIDE CABINS AND ACCOMMODATIONS
CAMPO CORTEZ - THE ECOLODGE
SELF-ARRIVAL OPTIONS, COSTS AND AVAILABILITY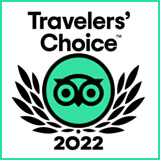 We are consistantly rated the #1 Travelers' Choice on Trip Advisor year after year for one reason, our Staff and Owners - who are residents and locals to San Ignacio Lagoon. We are four generations of family living and working in the lagoon since the settlement of San Ignacio Lagoon. We take pride in our efforts at our Ecolodge to have a low-impact environmentally and the responsibility that we carry as Ambassadors to the lagoon and its many wildlife residents.