A Typical Day at Campo Cortez
Whale watching is always the highlight of course but walk through a typical day at Campo Cortez to get a feel for what's in store.
Mornings
After a restful night's sleep under an enormously star filled sky in your private solar powered cabin, you'll wake to a spectacular sunrise. Coffee, tea, oatmeal and yogurt are always available in the dining area by 6:30 am or earlier and Fresh fruit is to follow just before breakfast. By 8:00 am a hearty, hot breakfast is served and good conversation amongst other guests is enjoyed. During the mornings you'll be able to watch the magic of the tide as coyotes and birds begin feeding in the tidal zone – easily viewable from the dining palapa or the porch of your cabin.
Birds include Brandt Geese, Great Blue and White Herons, Reddish Egrets, Ospreys fishing and Cormorants feeding on sea-grass to name but a few. Your first whale-watching trip usually begins around 9:00 am where we take a short five-minute boat ride to the designated whale-watching zone for some incredible encounters with mother gray whales and their calves.

Afternoons
After returning from your morning whale watch you have time to enjoy a variety of activities before lunch such as:
Walk to the whale-bone museum
Tide pool walk to see octopus
Kayaking in the mangroves
Photography excursion
Beach-combing
Bird watching
Or just relax in front of your cabin
Lunch is served mid day and you are then afforded a slight break to relax either at your cabin reading; take a small hike along the shoreline or to the mangroves; or join a guided tide-pool excursion to see the animals in the tidal zone such as Octopus and Scallops. As the tide allows, we depart on our second whale-watching excursion usually by 1:45 pm to 2:00 pm.
Our boat captains are graduates of a naturalist training program (RARE) and they are all residents of the lagoon and speak English. Each boat usually has one of our camp naturalists onboard to assist with how to entice a friendly whale to the boat while ensuring safe whale watching without harming or antagonizing the whales. They educate while ensuring safe viewing with minimal disturbance. And remember, our boat captains have lived and worked amongst the whales ALL OF THEIR LIVES. Both our captains and the whales have a very thoughtful bond of respect and our boat captains can recognize whales that have been to the lagoon for many years … and we suspect the whales recognize them based on their behavior and trust as they approach our boats.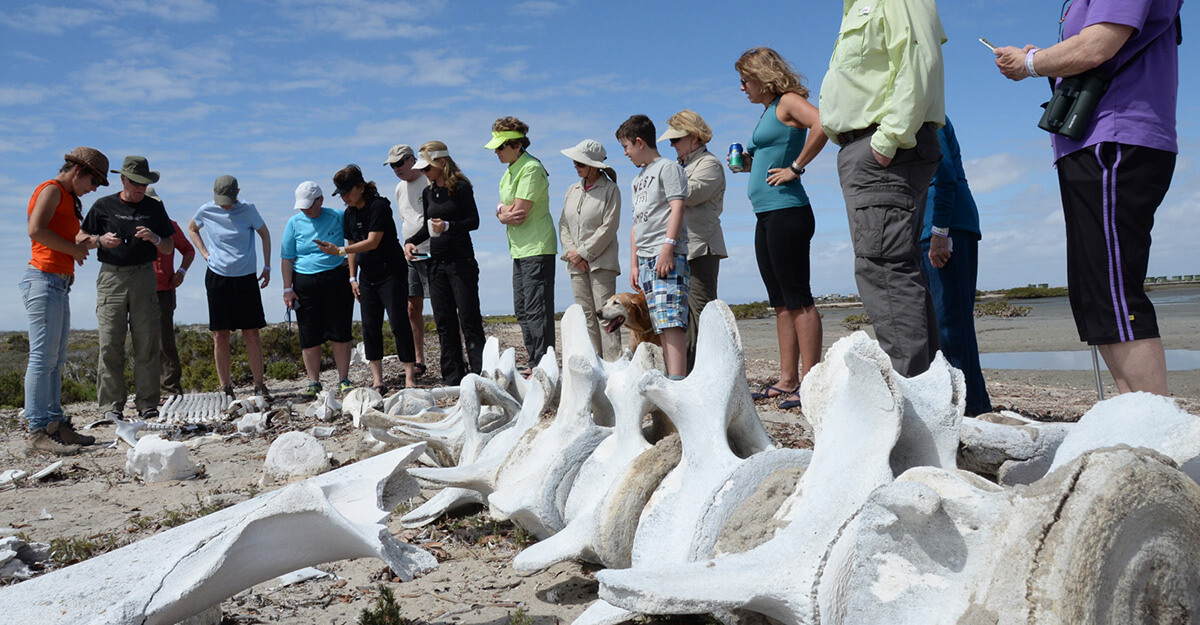 Day's End
After returning to camp you'll have time to yourself to wander the shell-strewn beaches, watch whales from the shore, browse our Baja library, relax beachside or simply enjoy the peace and quiet of your cabin with a view of the lagoon. You'll enjoy a peaceful, go at your own pace atmosphere. We have no hectic schedules here.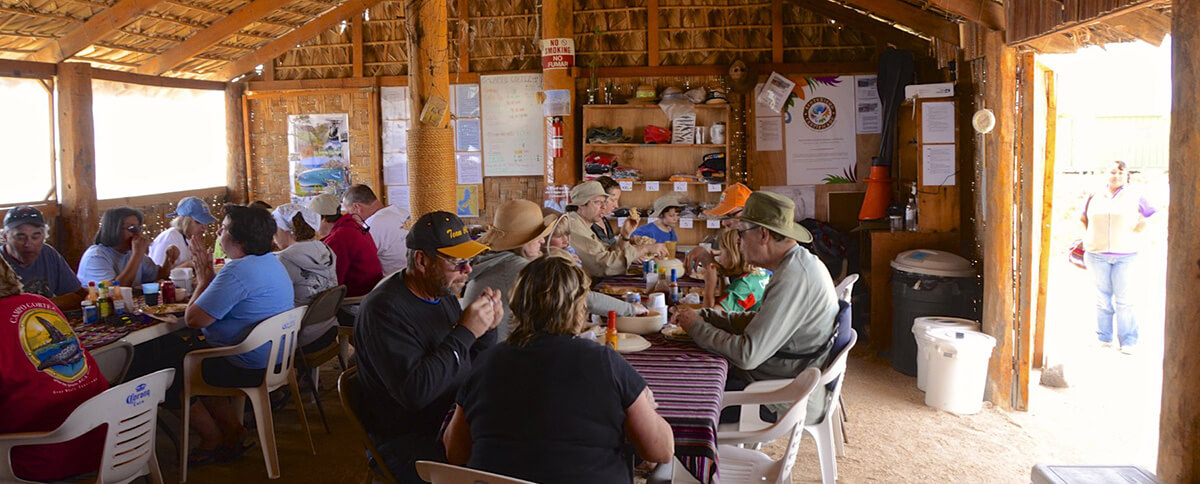 Happy Hour and Dinner
At day's end, it's Happy Hour where you'll be treated to coffee, margaritas, beer and refreshments as the sun sets over the dunes leaving a vermilion sky in its shadows. Sunsets are soon followed by authentic lagoon style Mexican meals with plenty of fresh vegetables, homemade tortillas, rice and beans and other specialties. When you retire to your cabin you'll be lulled asleep by the sounds of the lagoon; whales breathing in the distance and coyotes singing to the moon.