Map of the Baja California Peninsula
The Baja California Peninsula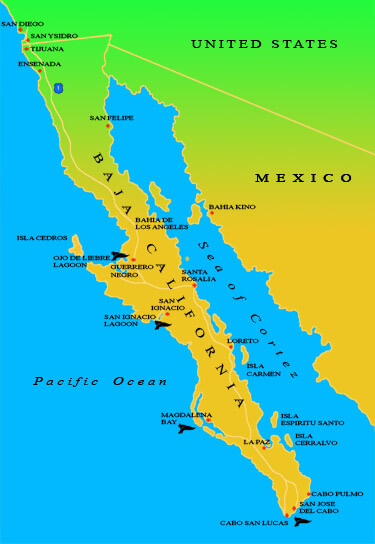 Baja - A Largely Untouched And Sparsely Populated Desert Wilderness
The Baja California Peninsula is a vast territory stretching for nearly 1100 miles South from the border of San Diego California, USA. It is almost as long as the west coast of the US but the average width of the peninsula is only 50-75 miles. Baja is largely an untouched and sparsely populated desert wilderness stretching from the cold waters of the Eastern Pacific to the warm water currents from the southern hemisphere that feed the nutrient rich waters of the Sea of Cortez.
The East coast of Baja is bordered by the Sea of Cortez, supporting the largest and most varied population of whales in the world as well as one of the last sanctuaries for the endangered Fin-back and Blue whales, the largest of the cetaceans (twice the size of the Gray Whale).
The west coast features the only breeding and mating lagoons for the Pacific Gray Whales. The remotest of these lagoons is San Ignacio Lagoon, the only lagoon left untouched by human development.
With only one two lane road and three small international airports serving the entire peninsula, Baja is truly the last unsettled frontier in North America with an unprecedented record by the Mexican government for its efforts to protect and preserve the marine mammals and fish that reside and migrate into the protected waterways of Baja.
---